Disney's new 2017 fiscal year just started yesterday, and that's always a big day when old concepts stop being funded, trendy new projects start being funded, and TDA suits get a fresh new balance sheet. In this quick update we'll fill you in on the latest executive shakeup for TDA, and what that means for fiscal year 2017 when Disneyland's major expansion projects will quickly begin to take shape.

The Shining City On The Other Side Of The Hollywood Hills
Last Tuesday it was announced that new DCA Vice President Christie Fleischer would be leaving her Anaheim post, effective immediately, barely nine months after she arrived. There is no immediate replacement for Christie, as DCA's VP position remains unfilled for now. As we told you when she arrived in Anaheim last January, Christie was the star player from Consumer Products that Bob Chapek hand-picked to infiltrate the Parks division. Christie, a New Jersey native who has lived in Southern California for over a decade, was perky and upbeat and likeable, a striking figure in her stylishly corporate outfits. But she spent most of her time in offices and meetings, as the theme park biz was foreign to her and the nuances of the daily operation were beyond her grasp. There was no farewell party for her last week like most execs receive, since her tenure in Anaheim was so short and anonymous.
Christie was supposed to lead the remake of Downtown Disney that was originally slated to launch in fiscal year 2017. But when multiple terrorist attacks in the last year both at home and abroad forced Disney to rethink its entire corporate security strategy, the Downtown Disney remake was scaled back and delayed while Disney puts a priority on creating a security bubble that is pushed beyond not just the park entrances but also the hotels and Downtown Disney. The last straw for Christie's short Anaheim stint and the Downtown Disney remake was the dismal sales figures and upset tenants at WDW's high profile Disney Springs retail project, as the growing problems at that Florida mall have forced a rethink in TDA of what to do with Downtown Disney. It will be a small miracle if TDA can still convince high-end bowling alley Splitsville to take over the old House of Blues site as we'd told you in a previous update.
With Anaheim's Downtown Disney project now scaled back and slowed down, Christie has outlived her usefulness in Anaheim after just nine months on the job. Since she had done a favor for Bob Chapek by taking the title demotion (she kept her Senior VP pay scale, of course) to provide intel on how the parks management works, a cushy new gig was created out of thin air for her up in Glendale and she gets her old Senior Vice President title back.
But don't feel too band for Christie, she will now be the newly minted Senior Vice President of Merchandise Experience Integration, a brand new and mysterious corporate title worthy of a Dilbert cartoon strip. Christie moves to a lavish office in Disney's Grand Central Creative Campus (GC3 for short) in Glendale, a collection of swanky new office buildings clustered around landscaped plazas and bubbling fountains. The GC3 campus spans 125 acres and cost $2 Billion to build, with all the trendy corporate perks; Starbucks, morning yoga classes, onsite Disney Store, shuttles to the corporate gym and hair salon, dry cleaning, a florist, concierge services for executives, stylish employee lounges for brainstorming and mocha sipping, organic fresh produce boxed and delivered weekly to your office from local farmers markets, free charging ports for your Tesla, etc., etc.
The company subsidized and sleekly styled employee cafeteria at GC3 is run by Bon Appetit Management of Palo Alto, the same team that runs lavish employee cafeterias for top tech companies like Google and Ebay. Bon Appetit's GC3 cafeteria has daily rotating menus featuring local organic produce, gluten-free and vegan options, on-site bakery for artisanal breads and pastries, handmade sushi and freshly pressed juices, and fresh sustainable fish. It's a daily dining experience that's lightyears beyond the un-subsidized greasy slop for Anaheim Cast Members (fried chicken strips, frozen pizza, and sad cheeseburgers is the bulk of the menu that never changes) slung out to dirty dining rooms by downscale Sodexo, an infamous company caught in a recent horsemeat scandal who also provides food service to prisons and jails. And that's all a big reason why top executives like Christie don't stay long in Anaheim, due to the dingy working environs in Disneyland's backstage areas and 50 year old office buildings. There's a class element of elitism at work here, but it's also easy to understand why a hip young executive like Christie would not want to stick around much longer at the neglected Anaheim property. She'd done her duty for nine months and put a happy smile on as she pretended to lead the working class custodians and burger flippers and ride operators that make the theme parks run, and now she gets her old Senior Vice President status back, with a gold star from Bob Chapek on her resume for putting up with Anaheim. The theme park operations world of working-class trades and entry-level customer service jobs may be easy to look down on, yet Disney's Parks division routinely pulls in quarterly after-tax revenues that are almost triple what the slipping Consumer Products division can muster, an inconvenient truth that doesn't explain why Burbank and Glendale get all the perks while Anaheim doesn't.
Dropping Out
And it's that Anaheim operation that will have plenty of work to do in fiscal year 2017. The Guardians of the Galaxy remake of Tower of Terror is well underway now, and will make the operation tougher and tougher as the weeks go along. The original WDI proposal to close the attraction on Labor Day was rebuffed by Christie and Michael Colglazier as they thought there was sales potential in keeping the ride open longer. So beginning last week, the ride is now undergoing a series of rolling refurbishments of each elevator shaft that will keep the ride working at 66% capacity through December. Last week the middle shaft, or Bravo Shaft in CM parlance, closed for its month of refurbishment. Each shaft will close for at least a month this fall as WDI installs new infrastructure and cabling to help run the new Mission: BREAKOUT show next year. That means the lines for Tower of Terror have just grown longer as TDA hypes up the closure with gimmicks like Late Check-Out, the Silver Lake Sisters performing in the lobby, and AP exclusive merchandise.
To her credit, Christie was right about the merchandise sales opportunity. The Tower of Terror exit gift shop has seen its sales skyrocket since summer ended. Most days sales are running 300% ahead of their year-ago figures, and on days when there is heavy AP visitation in the park, like Friday evenings and Sundays, the sales figures have gone up by 500%. DCA's retail team can't keep the shelves stocked, and they have resorted to flying in merchandise stock from the Florida warehouse as their replenishment deliveries can't keep up with demand.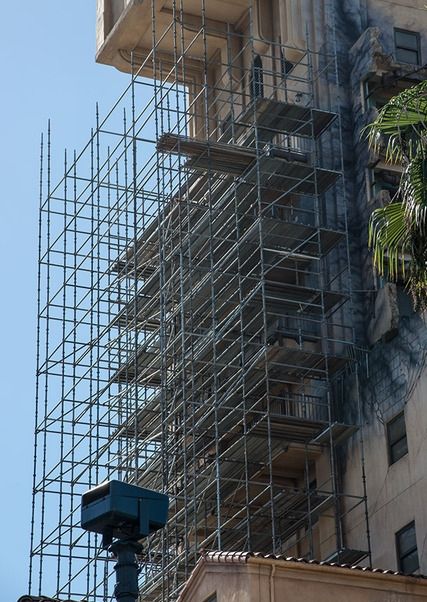 The construction scaffolding has been growing on the sides and back of Tower of Terror, and by Halloween it should be nearly fully shrouded in scaffolding and tarps. That's about the time that the construction footprint will have to expand enough to shut down the DCA parade route through the remainder of the construction timeline until next May. Without the ability to perform a parade during construction DCA will still go full steam ahead on one of Christie's pet projects, the food and merch "festivals" in DCA that will begin November 11th and continue through the spring in one form or another. And when the scaffolds come down, this is what will be seen from throughout DCA – as the video says, inspired by oil refineries:
Silver Screen
During fiscal year '17 DCA will continue to be the home of movie sneak peeks; Dr. Strange this Friday in the Sunset Showcase Theater, Moana on October 14th in the Bugs Life Theater, and then Beauty and the Beast and Cars III next spring. The big 400 seat Sunset Showcase Theater, formerly the Frozen and Muppets venue, has been refurbished and plussed up by WDI this fall. They've removed all the Frozen references, and slathered on new paint and carpet and trim to make it more like a Hollywood movie palace. WDI has also upgraded the 3-D projectors to allow for more impressive audience-surrounding visuals, in addition to the theater's usual water, wind, lighting and projection effects.
It's a big upgrade over the much smaller theater in WDW, where they will show Dr. Strange and other previews in simple 2-D and without any ability for in-theater special effects. WDI and the Studios just love doing these previews at Disneyland, as the SoCal demographics pulled in are in the sweet spot of affluent families who can help create proper buzz for the latest movie before it opens. Unfortunately, the WDW management team just hasn't gotten it together to upgrade their preview theater and therefore show basic 2-D previews there.
Star Wars Rising
Over at Disneyland, fiscal year 2017 will be the year the Rivers of America and Disneyland Railroad return to service in their newly re-routed formats. And July of 2017 is the month that newly upgraded Fantasmic! 2.0 debuts with a new plot involving all new characters, sets and technology. By next summer the massive show buildings for Star Wars will be rising into the air, as TDA continues to battle with WDI creative execs over the operational direction of the new land.
WDI wants to leapfrog the competition at Universal Studios by creating an immersive Star Wars environment that is more akin to Renaissance Faire cosplay than a theme park land. Shops and dining would be hyper-themed and operated like elaborate dinner theaters and living history museums. When it comes to the two E Ticket rides, visitors would be guided through long plot-filled stories that take them through multiple environments before they board their ride vehicles. In the case of the Millennium Falcon ride, code-named Big Bird at WDI, the experience would involve moving between multiple pre-show theaters setting up the plot and what tasks you must complete once you board the Falcon and launch into space. And if you fail at your assigned tasks, a happy ending is not a guarantee.
In the case of the Stormtrooper Battle Escape ride, code-named Alcatraz, WDI wants you to rush to your wireless and trackless vehicle and board and then disembark and re-board the vehicles on different levels of the massive ride building several times during the course of a long experience, all while under attack by Stormtroopers. The pit currently being dug deep into the ground on the Alcatraz site is required for the elevator mechanism that will make the multi-level ride possible. Imagine riding Pirates of the Caribbean, but getting off your boat in the caverns to explore the skeletal remains, getting back in your boat quickly when you hear Barbosa attacking the fort, sailing along until you get out of your boat a second time in the auction scene to interact with the panicky townsfolk for a while, then re-board your boat quickly when the fire breaks out to escape by sailing through the rides finale'. As an additional point of reference, Disneyland's Pirates has 75 animatronic figures, but Alcatraz will have over 150 animatronic Stormtroopers alone, plus additional animatronic Star Wars characters from the tiny to the gargantuan. With Star Wars, WDI wants to blow your mind when it comes to what you think a Disneyland ride can do and how you interact with it. And they've already begun to use that same criteria in planning DCA's upcoming new Marvel rides and park expansion.
While the creative vision for the two Star Wars rides are ground-breaking and overwhelmingly huge, the operational capacity is tiny. Each attraction is not expected to get more than 1,500 riders per hour, or roughly half the hourly capacity of Pirates of the Caribbean. Senior execs like Michael Colglazier and Bob Chapek are unfazed by that reality and never pushed WDI for higher capacity, as they have no real operational experience on a Disneyland scale. But there are some folks at Imagineering, who have worked in the industry for decades, who are worried that the low hourly capacity of these epic mega-rides will negatively impact the visitor experience due to frustration and disappointment for at least the first few years of operation. Especially if the showmanship for the lucky few is as impressive as WDI hopes it will be. So, happy new fiscal year to you and yours. After a half decade of solid growth, topped off by the wildly successful Diamond Celebration, the Anaheim property has never been more financially successful. The art and business of theme park operations might get very little respect from Burbank and Glendale bosses, but it will be interesting to see how the Anaheim team is backed up by those bosses when WDI creative execs challenge them to rethink the entire theme park experience for paying customers in Star Wars Land. The next few years should prove to be very, very interesting, at least for those who actually stick around in Anaheim long enough to see it. Well folks, that's our Disneyland rumor update. Now, let's hear from you.
Are you breathless about a potentially fully immersive Star Wars Land or worried about the pending operational nightmare? Will Tower be missed or will Guardians fill the void? And how would you handle pushing the security bubble beyond the theme parks to cover the hotels and Downtown Disney as well? These are all massive projects. Just imagine how to accomplish all of this while running the day to day operations of a crowded amusement enterprise.
Please be kind to each other folks. Hostility or personal attacks of any kind are not permitted in our comments section. Speak your mind, but be respectful of others.